Women/Men/Kids Attire:
Any clothing that allows movement, comfortable and stylish. Business casual is perfect, but for ladies; yoga pants with nice tops are great too. A cute dress or skirt with top for the kids is perfect. For men jeans and nice T-shirts works too.
Shoes: To start even sock works at the beginning, or any shoes, thin sole sneakers that you can spin in comfortably.
If you decide to continue dancing:  A suede sole dance shoes would be needed. It gives you some traction on the dancefloor and allow you to glide without slipping. It depends on which dance styles would you like to master we need different shoes. For all the Latin/Rhythm dances eg. Salsa, Chacha..etc we need Latin sandals, and for all the standard dances; Waltz, Tango..etc. we need ballroom shoes. Latin shoes have higher heels, leader's heel is 1,5 inch and the followers 'shoes are open toed. In Standard/Smooth leader heels are only a half inch heel, same like a men dress shoe, followers' toe is closed. Ladies: flare heel is more stable, slim/siletto heel is nicer. Kids: Until you are 12 you can only wear max 1.5 inch high Cuban block heels. Boys shoe must be black.
Affordable latin sandals and standard adult and kids shoes can be found eg. on Amazon. If you like to start with a good quality shoes then we suggest more expensive brands:
https://www.rayrose.com Latin: Kalahari model, slim heel, Standard: Sinai or 108A Ion flesh Satin, this can be good for Smooth too: or for Latin: https://aidadance.us Karina model. If you like to try out a shoes in this area then the widest selection of shoes are in Ballroom Connection in Sunnyvale; https://ballroom-connection.com.
Pictures:
Latin Women Sandal:
Standard Women Shoes:
Girl Latin Sandal: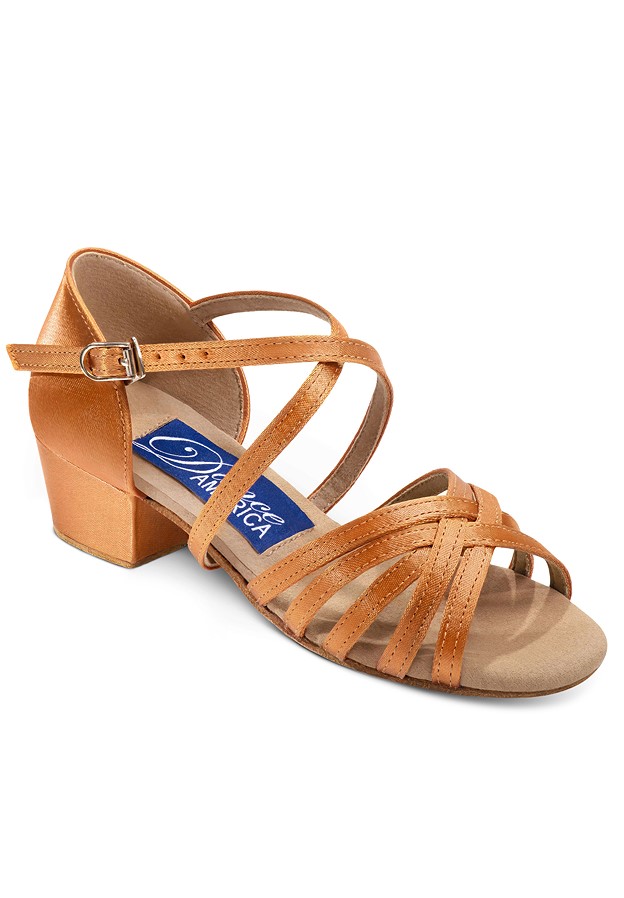 Girl Standard Shoes:
Men/Boy Latin Shoes with higher heel:
Men/Boy Standard Shoes has small heel:
Competition outfits: